After a long day filled with baking my mom goodies, washing dishes & tired/aching pregnant feet N back I was in no shape to cook dinner...Well OK I just didn't feel like it.
So Jason decided to eat leftovers, none of which I wanted. But I was hungry & didn't feel like making a big meal & we didn't really have any quick N easy food to cook.
So I grabbed myself 2 whole wheat pitas & tossed them into the oven on broil until they were crispy. Then I put a little alfredo sauce on them, topped them with spinach, red peppers, cheese, italian seasoning, pizza seasoning & a little bit of roast beef. I then put them back into the oven on 325 for about 10 minutes. So I had a quick N easy, very yummy & not overly filling dinner. I might make some for lunch tomorrow!!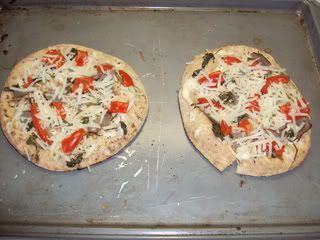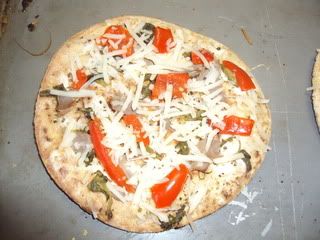 PS- the pics, recipes & a review for the donut pan I used to bake today will get posted tomorrow, promise. I'm just to damned tired right now to bother.