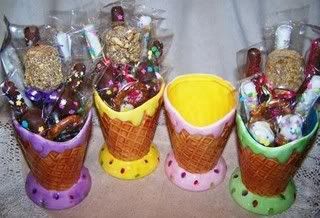 Last week I was delighted to receive some yummy home made chocolate dipped treats from
The Rhoda Rose Etsy Shop!!
I was in the process of cooking dinner when there was a knock at the door. To my delight it was the UPS guy with a box filled with yummy goodies. What a nice surprise for dessert!
I got two sampler packs one with white chocolate & one with milk chocolate dipped treats. The professional packaging contained dipped pretzel sticks, dipped knotted pretzels, little pretzel bites covered in chocolate, chocolate covered grahm crackers & (My personal fav!) choco dipped marshmallows covered in grahm cracker dust!! YUMMY!!
Now let me say it again...
YUUUUUUUMY!!!!!
The milk chocolate goodies were pretty much non-existent after that first night. I'm a huge sweets fan & being pregnant has only seemed to increase it by 100%. I just can't seem to get enough sweets! I honestly don't know how I've managed to only gain weight in the tummy!!
I have two white chocolate knotted pretzels left in the fridge, I finished off the last of the milk chocolate a few minutes ago. The last one I ate was so adorable with white, black & hot pink sprinkles on it. I wish I had of known about this Etsy shop back in November because those were my wedding colors! I would have loved to give out little yummy goodies as wedding favors!
If I had the extra cash I certainly would buy some for my baby shower! :-D
If you have a sweet tooth you MUST check out this shop, no excuses, go NOW!
Yes I said NOW. You might win one of their awesome
Ice Cream Cone Dishes
filled with yummy treats! That's right, they've agreed to give away one of these adorable dishes to one of my lucky readers, and the winner gets to pick their favorite color!!
All you have to do to be entered is to check out the shop then come back here & leave me a comment telling me which sweet treat makes your mouth water!
For extra entries feel free to do any or all of the following & leave separate comments for each action:
-Blog about this contest with a link back to this post. Then leave me a comment to your post.
-Follow me on Twitter( JessKitty777 ) & leave a comment telling me. ((I'm actually having trouble with getting any of the Follow Me Twitter buttons to show up on my sidebar for some reason, dunno what's up with that, It was working fine a couple weeks ago!))
-Tweet this contest with a link to the post.
-Follow my blog.
The contest will end July 1st & the winner will be chosen via random.org. Sorry but the contest is only open to residents of the USA at this time.